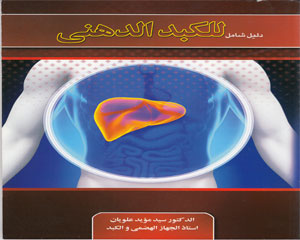 One Of The Important Activities Of The Liver Is Storage And  Metabolism Of Fat In The Body. Normal Liver Contains About 5 Grams Of Pure Fat Per 100 G Of Liver Weight. If The Amount Of Fat In The Liver Exceeds 5% Of It's Weight, The Condition Called "Fatty Liver" Disease.
Fatty Liver Disease Is Common In Population,  And Caused By Many Other Diseases Or Bad Nutrition.a
إن إحدی من نشاطات الکبد الهامة هي تخزین الدهون و احتراقها و استخدامها الغذایيفي الجسم. والکبد الطبیعي تحتويعلی حوالی 5 غرامات من الدهون المحضة في کل100 غرام من وزنها. وکلما ازدادت نسبة الدهون في الکبد أکثر من خمسة بالمئة من وزنها، ….فیقال لهذه الحالة "الکبد الدهني".
book_comprehensive_fatty_liver_arab